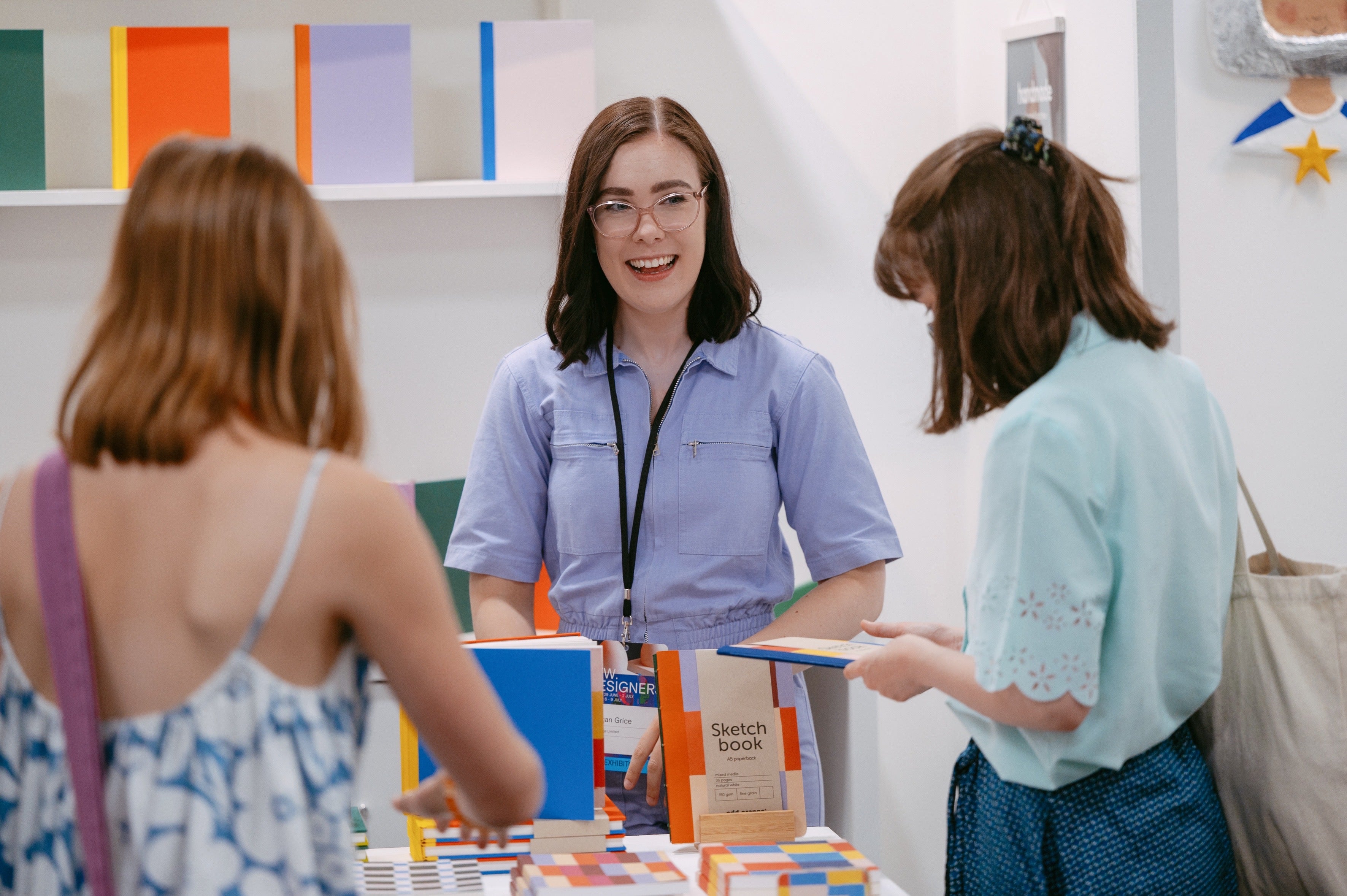 Odd Orange officially turned one year old on the 1st of February, and I can't believe how quickly the time has gone! Whilst it felt like it went by in the blink of an eye, reflecting on the previous year showed me how far I've come in such a short time. Today I'll be sharing everything I learnt in my first year of business: the successes, the setbacks, and what I would tell myself if I could go back and do it all over again.
Photograph by Joshua James Photography
The Highs
I had the time of my life last year running this business and was able to celebrate many (small and large) successes. Some of my highlights of the year were exhibiting at New Designers; building a growing community on Instagram; hosting online drawing sessions (which have become a big hit in recent months); leaving my day job and going full-time; and hiring freelancers to help me with my blog posts and production. I'm very thankful that Odd Orange was profitable and self-sustaining from the first month we launched. We've had almost 700 orders this year and have shipped to 25 countries, which I find unbelievable! It's all because of your support, and I'm so incredibly grateful.
Besides all that, my absolute favourite thing about running this business in the last year was interacting with you! Seeing unboxing videos and artwork made in our sketchbooks, hearing your feedback, and chatting with you at drawing sessions, has given me such a sense of joy and purpose. It's what keeps me going. I started Odd Orange to help improve others' creative practices, just like my sketchbooks improved mine. To see that goal come to fruition has been incredible.
The Lows
All highs come with lows, and I have had many! I spent a whole year preparing myself before launching Odd Orange, which helped prevent and overcome failures much more quickly. Besides preparing the physical aspects of the business (branding, production, legal, etc.) I spent much of that year researching. This meant that I could anticipate many hurdles that came my way, and I set plans in place to bypass or overcome them. If you're thinking of setting up a business, my biggest tip is to do your research!
Stock (or lack thereof)
One of the main hurdles I anticipated was our stock problem. I knew that making all of the books by hand from scratch would be time consuming and would limit the amount of stock I could produce. The first three months after launch went smoothly, and I could keep up with the demand. However, I soon found myself overwhelmed after my business gained masses of new traffic from one of my reels going semi-viral and Magali Franov and Pearfleur sharing their sketchbooks on YouTube. Although overwhelming, this sudden exposure was a dream come true and meant I could leave my day job and run Odd Orange full time. My intial plan to meet demand was to open pre-orders. People could buy what they wanted, there would be no excess stock, and I didn't waste time making unnecessary products. Pre-orders worked for a short time until demand exceeded what I could physically make. Although, this setback was nothing compared to what came next. Even though each listing stated that pre-orders could take up to three months (making everything by hand is very time consuming!) I still felt pressure to make them quicker because people were waiting for them. Long nights and weekends spent working became the norm, and I no longer knew how to relax. Supplier delays and postal strikes further exacerbated my stress as my customers had to wait even longer for their orders. All this stress and overworking lead to the inevitable (but seriously unplanned for!) burnout.
The dreaded burnout
Even with all of the planning I did, anticipating everything that could go wrong, the only thing I didn't account for was my own brain! My burnout left me exhausted and unmotivated for over three months. It consumed me during the Christmas period and has only just started to fade. I was still able to work on pre-orders but not much more. As you can imagine, sales weren't as great as I'd hoped for Christmas time, and that was because I didn't have the energy to make the stock to sell.
I'm pleased to say that I'm on the mend and have put processes in place to fix the stock levels and prevent future burnout. I'm now being much kinder to myself. Realising that the biggest threat to my business is my mental health, I now take breaks, work reasonable hours, and treat myself occasionally. I see it as a business expense - an investment in the future. I try to work regular hours, occasionally working over when I've got a deadline, but also giving myself time off if I need it. It's made such a big difference. I've also started working with freelancers to take some of the work off my plate. Finally, I'm also working with a local bindery to make some of my book blocks. Whilst I'll still be making many myself, and I'll need to make the covers for all of them, this should help ease my workload massively and produce more stock to meet demand. You'll see lots more products in stock in 2023, and wait times will be much shorter between restocks - which I'm so excited for!
My Tips for Running a Creative Business
Get organised - this is the sole reason my business functions so smoothly. I use a three-step system that I've tweaked and evolved over the year. All you need is a planner, a bullet journal, and a calendar. It's honestly changed my life and means that I'm on top of every aspect of my business - which is very difficult when you run everything yourself! If you want to know more about my organisation process, let me know.
Take breaks. Please set yourself suitable work hours and don't overdo it. Being determined and working hard is necessary when running a business, but not at the expense of your happiness or personal life. Although you might feel guilty taking time off, see it as the lesser evil. It's much better to have evenings and weekends off than to have 3 months off because you're burnt out!
Don't be afraid to ask for help. You'll thank yourself in the long run.
Do it, even if it scares you. I've done so many things that have scared me this year. From public speaking to hosting online workshops and exhibiting my business at a tradeshow: as an introvert, I've found it terrifying. But these are the things that have propelled Odd Orange forward. They're scary but necessary, and the more you do them, the easier it gets.
I'm so excited to see what 2023 brings. I've started the year with a new lease of life, and I'm ready to get the ball rolling on all my new plans. You can expect lots of new things from Odd Orange this year, such as more stock (finally!), new releases, artist collaborations (more information to follow soon!), and a whole host of online workshops. I'd love to have you along for the journey.
I hope this blog post has given you some insight on what can go on behind a business and has helped those planning on starting their own. Let me know your thoughts and any lessons you've learnt in the last year in the comments below!
Thanks for reading! I hope you have a wonderful day full of joy, inspiration, and colour.
- Morgan
Learn more about my business journey:
Odd Orange at New Designers 2022
The Launch, Our First Drawing Session, and Packing, Packing, Packing
Comments (2)