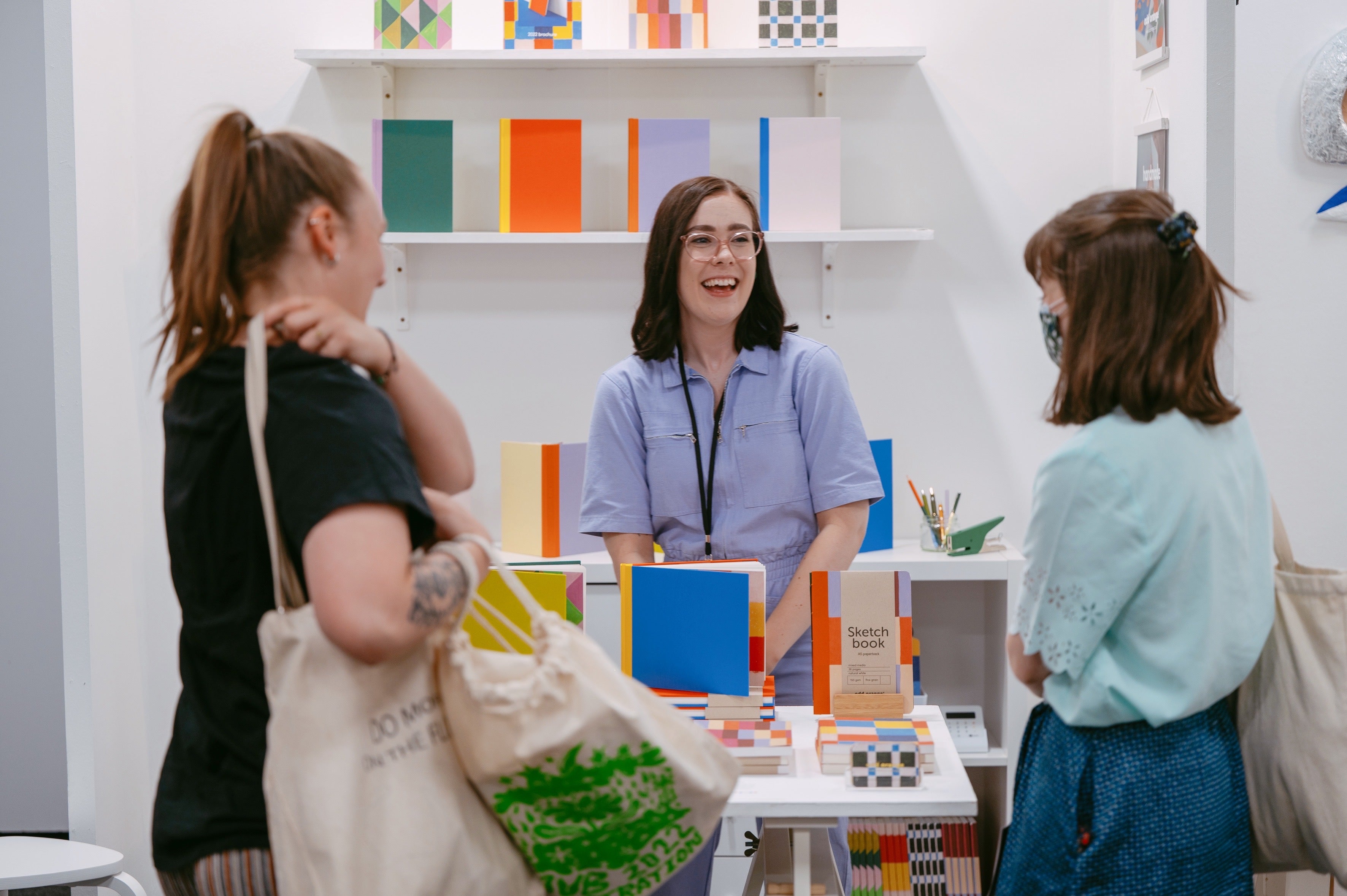 At the beginning of July, I was lucky enough to exhibit Odd Orange and the Triadic Collection at New Designers 2022. Keep reading to hear all about my experience and my top tips for taking part in trade shows!
The Business Design Centre, Islington, London.
New Designers
New Designers is an annual design exhibition that takes place at The Business Design Centre in Islington, London. The exhibition focuses on new design talent on the cusp of entering the industry. Many universities take part, showing the work of their top students, as well as a separate curated section called One Year In, which is where I was exhibiting!
The show is not only a hot spot for industry professionals scouting out new talent, but it's also a great place for designers to get feedback on their work, make contacts, win awards, take on a mentor, and much more. As a new business, (only 5 months old at this point!) I felt that New Designers would allow me to finally observe real-life reactions to my products, meet new customers, find routes to wholesale, and discover other creative individuals that I could hopefully work with in the future.
Unintentionally matching the branding for One Year In!
What is One Year In?
One Year In is a separate part of New Designers, reserved for creative design businesses that are one year into their journey. The space sits apart from the rest of the show and is specially curated and promoted. Our curator and mentor for this year was Sally Angharad; a materials, design, and trend consultant with expertise in colour and curation. She was such a huge asset to me, not only in getting her opinions when choosing the colours for the Triadic Collection but also in her help with designing the space and making the most out of the show.
Setting Up
The show took place from Wednesday the 6th to Saturday the 9th, with the set up on the Monday and Tuesday. Overall, we had one and a half days to build our stands and it always takes longer than expected!
The build after day one.
Staying hydrated with bubble tea!
I wanted my stand to look like the inside of someone's studio or shop (in fact, it looks almost exactly like the Odd Orange studio!) so I decided to include a cabinet surrounded by shelves, a table, and some framed posters. The cabinet ended up being an incredibly beneficial part of the stand, housing all of my inventory and personal items whilst keeping everything looking neat and professional. The only drawback was the fact that I had to build it during the setting up days! Luckily, I enjoy building flat pack furniture so it wasn't too troublesome, but did add an extra element of 'will I get this built in time?!'
The finished stand.
I kept all of the furniture and walls white to draw attention to the colours of the books and it ended up being very effective! A lot of people said that they stopped and had to come over because they were drawn to the colours. I kept the focus on my books, with a few stationery props dotted throughout to set the scene.
The Show
New Designers is a very long show, with some days lasting up to 13 hours. However, time seemed to fly by and I think I spoke to more people in those four days than I have in the last 2 years! I really enjoyed meeting new people and chatting about stationery, colour, and design. It was wonderful to see people's reactions to my products and it's given me so much more confidence in my work.
Some of my personal highlights were meeting customers that had made the effort to come and see me; selling my products, including a notebook to Joseph Joseph founder, Antony Joseph; meeting creative directors and buyers for the likes of John Lewis, Pigment, and Hallmark; chatting stationery, and making new friends with my stand neighbours, all of which I found incredibly supportive, kind, and inspiring. Make sure to check out this reel, which gives an overview of all the amazing new businesses that exhibited with me at One Year In.

Trade Show Top Tips
1. Give yourself time - time to plan (I spent about 3 months planning), time to set up (it always takes longer than expected), and time to yourself. I didn't do much of the last one, not taking enough breaks or resting properly afterwards and I paid for it in the days following!
2. Make a plan. After deciding on the products that I would show, I drew up a plan of my stand to scale, including how I would display my products. This meant that I had exactly everything I needed and there were no nasty surprises when setting up. I also recommend making a detailed list of everything that you need to take, including products, furnishings, and collateral. This made packing so much quicker!
3. Be comfortable and safe. Shows like this are very long and tiring, so make sure to bring something to sit on during the quiet periods. I brought a simple white stool from Ikea and it was perfect - matching my stand and keeping my feet from aching! Also, make sure to bring a hi-vis vest and sensible shoes for the set-up. Most venues list this in their requirements so it's important to remember.
4. Be succinct - verbally and visually. Before the show, I practised a short 'elevator pitch' and answers to common questions I might get. An elevator pitch is a quick overview of your business, designed to present all of the information in a couple of minutes (the amount of time spent in an elevator!) It's important to present your business in a speedy and easily digestible way, to encourage further questions and conversations for those that are interested. Also, make sure to be succinct in the presentation of your stand. It's very tempting to show all of the work you've ever done to make the most out of the show, but sometimes this can look cluttered and have an overall negative impact on your work. I decided to show just one collection because it looked very uniform and attractive as a whole. I used my printed collateral (brochures, posters, flyers, etc.) to showcase some of my previous work. 
5. Think about what you want. This was something Sally really put forward - to think deeply about why you want to exhibit your work. Knowing who I wanted to target and why ensured that my stand was tailored to these people. My activities before the show benefitted me, such as contacting and giving tickets to people that I wanted to meet there, and I knew how to draw these people out and converse with them. It's great to be open to all possibilities but having an outcome in mind makes it more likely to happen!
I really enjoyed my time at New Designers One Year In and recommend it to other new design businesses wanting to break out of the online space and open up opportunities. I feel like it's a great stepping stone to industry-specific trade shows and is more cost-effective for start-ups. You can find information about how to apply to One Year In here.
Thanks for reading! Feel free to ask me any questions in the comments below, and I hope you have a wonderful day full of joy, inspiration, and colour.
- Morgan
Comments (0)