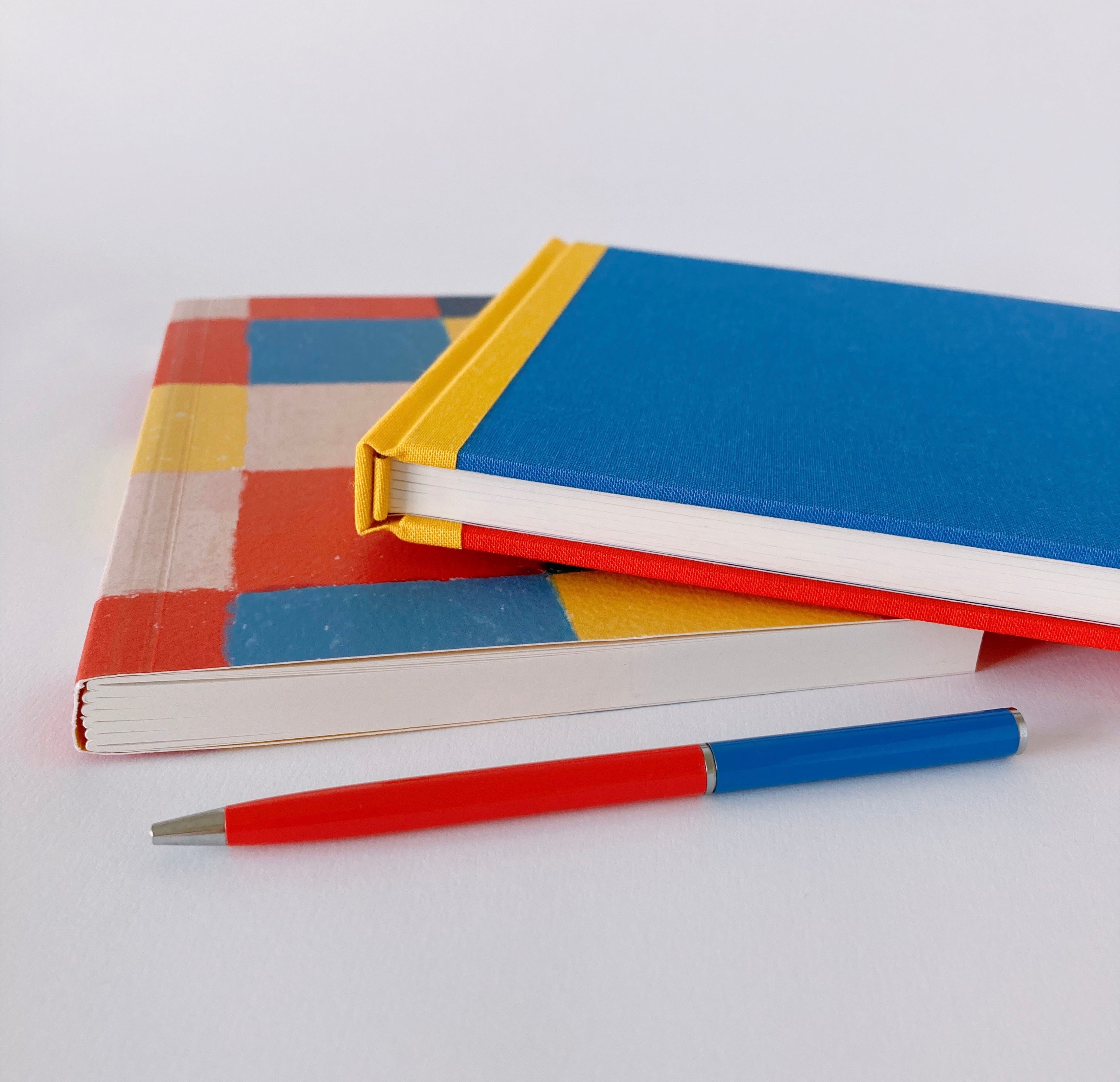 I'm so excited to finally be unveiling the collection I've been working on over the last three to four months! Keep reading to learn all about The Triadic Collection and how you can get your hands on it!
The Triadic Collection
Exploring triadic colour palettes (colour palettes with three complementary colours) and their place in design, The Triadic Collection aims to create a new and colourful spin on the everyday sketchbook, whilst encouraging creativity and artistic freedom.
The collection comes in four colour ways, each having a line of hardback and paperback sketchbooks and notebooks. Each hardback book is bound with three colours of cloth alongside geometric patterned endpapers. The paperbacks feature these patterns as the covers, printed on beautifully thick hammered card stock.
Lavender, Cream & Rust colour way in hardback and paperback.
Materials and Processes
As usual, all of the books are handmade from scratch and feature the same materials and processes as our previous collection, the only difference being the aesthetics and an exciting new sketchbook size!
Our sketchbooks feature mixed media paper in 190gsm smooth or 150gsm fine grain, and our notebook paper is 118gsm smooth and fountain pen-friendly. All books are incredibly durable and lay completely flat. Learn more about our surfaces and processes.
Chartreuse, Fuchsia & Jade Green colour way in hardback and paperback.
New Sketchbook Size
The launch of The Triadic Collection also comes along with the release of a new sketchbook size! We call this our landscape format. At 18 x 21 cm, the difference in the dimensions is so minute it's almost considered a square sketchbook. I love a square format but decided to add the extra few centimetres because I found the size more visually appealing than a perfect square. Plus, the more paper you get the better, right?!
Deep Olive, Pale Pink & Sky Blue Clothbound books.
Orange, Yellow & Blue Clothbound books.
2 in 1 Sketchbook
My goal from the day I set up this company was to encourage creative freedom and prevent art block. This is evident from my choice of papers (using only the best art and writing papers) and the durable lay-flat binding, even down to our colourful illustrative covers, designed to spark ideas. We've now gone one step further to make our sketchbooks and notebooks as multi-purpose as possible.
The symmetrical endpapers and the placement of our logo on the spine of our hardback books ensure that they can be used and rotated in a multitude of ways. Essentially, there's no set front or back cover - you can choose to start the book wherever you want. As The Triadic Collection features different colours on each side of the book, you can pick which colour you'd like as the front. This versatility means that you can have two sketchbooks in one! If you're left-handed or prefer working on one side, once you get to the end, you can flip it around and start again! You can also assign different themes for each side, such as one for artwork and the other for swatches. Or one side for finished work and the other for looser, more experimental sketches.
The logo on the spine also allows you to rotate the book however you want. Our landscape sketchbooks are perfect for this - you could use it in the landscape format or like a portrait sketch pad.
Deep Olive, Pale Pink & Sky Blue colour way in hardback and paperback.
Launching on the 13th of July at 6 pm BST 
The collection will be launching at New Designers in London on the 6th of July. It will then hit our online shop a week later, on Wednesday the 13th of July at 6 pm BST. Make sure to set your timers to ensure you get the design you want!
I can't wait for this launch! Let me know your thoughts and opinions in the comments below. I hope you have a brilliant day full of joy, inspiration, and colour.
- Morgan
Comments (0)