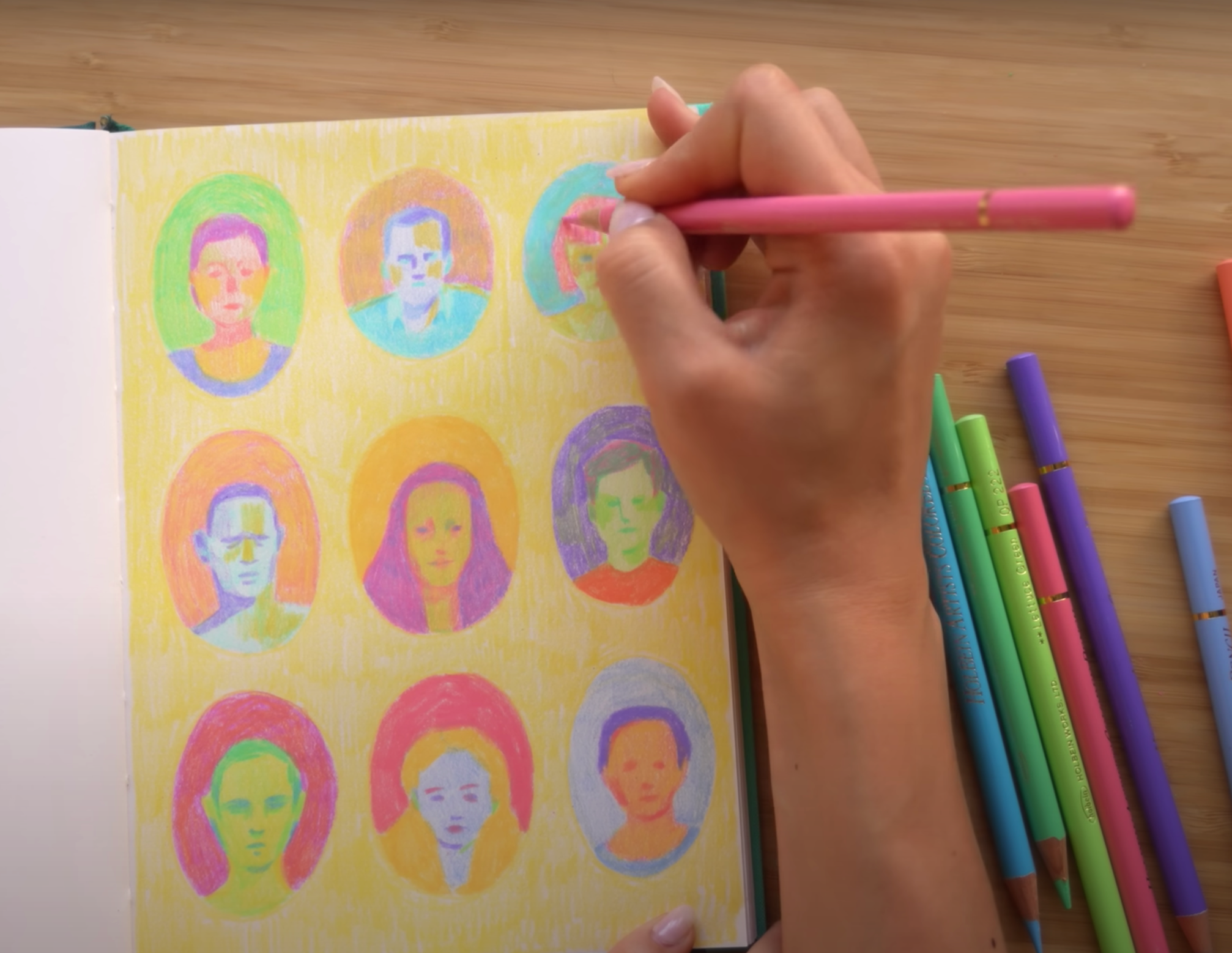 I was so excited to see Ihwa, the artist behind well-known art account Pearfleur, unboxing an Odd Orange order in her latest YouTube video!
In the video, she shows the unboxing of her new sketchbook and notebook, goes through a few pages she'd already tested out in the sketchbook, and showed the process of filling in two more spreads, whilst discussing her thoughts on it. It was so beautiful to see her mixed media illustrations take shape throughout the video.
"What I really loved... is how thoughtful [Morgan] is in considering the artist's needs above all else. You can tell that every aspect of this sketchbook is meticulously thought out: from it's lay-flat quality, to the weight of the paper and the illustrations, info cards containing historical information about the background of the sketchbook cover colours, down to the overall branding. I've been really enjoying drawing in my [A5] 150 gsm fine grain sketchbook in Emerald Green and I'm really excited to see how Odd Orange grows their line. Once I'm done with this sketchbook I'm definitely going to pick up a few more!"
This was such a surreal experience for me, having been a fan of Ihwa's work for many years. In fact, her videos are what first introduced me to bookbinding! We had no idea she had shopped with us, so what you see in the video is an accurate representation of what you can expect when ordering Odd Orange stationery.
"The paper of this sketchbook is just exactly how I like my sketchbook paper, where it's tough enough to handle different mediums but also doesn't feel too thick and heavy to the point where it feels precious."
Make sure to give her video a watch for some seriously satisfying art supply unboxing.
On a side note, this isn't the first time Odd Orange has broken into the YouTube space! Illustrator Magali Franov also posted a video in May, touring her Indian Yellow Clothbound sketchbook. It's had over 90k views at the time of posting this and it's well worth a watch if you're wanting to feel inspired. You can find the vieo here.
Thanks for reading! I hope you have a wonderful day full of inspiration, joy, and colour.
- Morgan
Comments (0)