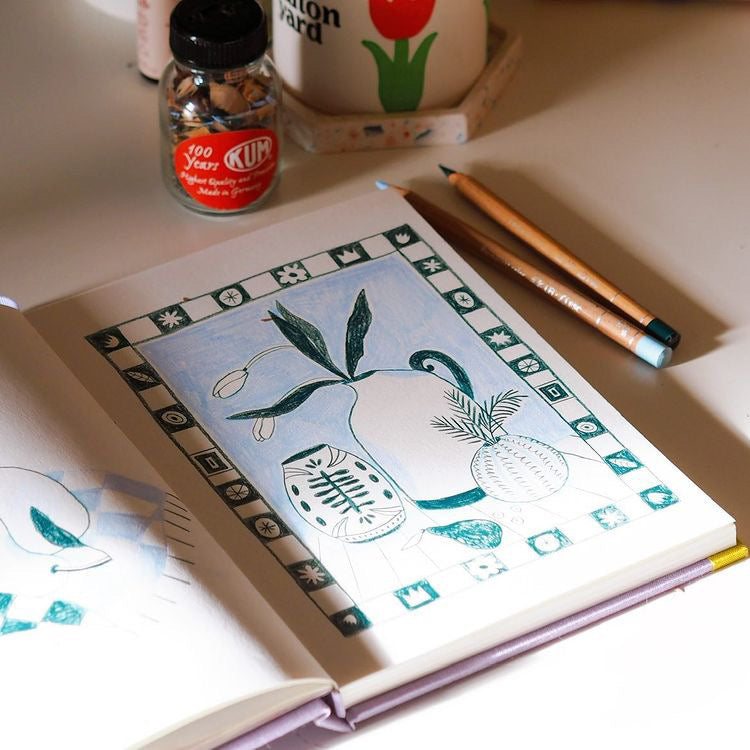 Join us as we tour the sketchbook of freelance illustrator Jessica Smith. We discuss how she went from university student to professional illustrator, nailing those dream projects, and the importance of sketchbooks. She gives us brilliant insights and advice on commercial illustration whilst sharing some beautifully colourful sketchbook pages. Keep reading if you want to feel inspired!
Jess in her studio in Bath.
I recently interviewed Jess for the second instalment of my 'Inside the Sketchbook' series and had a wonderful time talking about illustration and sketchbooks with her. It has been such a joy to watch her fill up her Odd Orange sketchbook on Instagram, and I feel very honoured to be able to share some of her pages and thoughts in this blog post.
Jess's Ultramarine Violet Clothbound sketchbook with 190gsm smooth paper.

Jessica Smith is a freelance illustrator and designer based in Bath, in the UK. She has been working in the industry for around five years and has worked with well-known clients such as Paperchase, Kate Spade, Oxfam, Simon and Schuster, and Adobe. Jess is currently working on her second book alongside client work, hosting workshops and having an online shop selling artwork, stationery, accessories, and more. She enjoys painting in gouache and has recently started introducing mixed media to her work. She manages to do all of this whilst still making time to have fun in her sketchbook!
"[Sketchbook work is] definitely something I'm really conscious of, [especially after] I've been staring at a screen all day. Until last September, I didn't have a sketchbook, and now thinking back to that, I'm like, how did I practice? Everything was always a finished piece or a big painting. It's been really nice to have a sketchbook and have fun in it."
You have done all sorts of projects, from window displays and books, to products and product packaging. What has been your favourite so far?
"It would be the Kate Spade billboards. It was just insane [to go] from seeing it on my iPad, to going up to London and seeing it as a 6 metre billboard. Working with big clients like that, there's a lot of stages that it has to go through, but I think that the outcome of it was definitely worth it - to see something that big with a brand that big."
What would be a dream project?
"I really want to work on a range of homeware. To design the patterns for homeware like duvets, pillows, and throws. Preferably for Anthropology if that would ever happen to me!"
Kate Spade billboard by Jessica Smith.
When talking about freelance work, Jess describes it as "always exciting" because she "never know[s] what's going to ping into [her] inbox." "It's always so different" she says.
Jess has been represented by The Bright Agency since she was discovered at New Designers, fresh out of university. She initially turned them down but found that she struggled to find design work after graduating. She took them back up on their offer and has been with them ever since.
"When I came out of uni, I think I probably had a break down. I didn't know what I was doing. You really come out so unprepared for everything. And so many people don't go straight into [illustration] full-time. I had a cafe job for a while because I had to earn something!"
When I asked if having an agent has helped her in her journey, Jess claims they have "been great", especially when she started out and needed a "confidence boost, having someone behind [her] pushing [her] work". She found that they "put [her] work in front of people [she] wouldn't normally be able to get it in front of", and that having their perspective meant that she could look at things more objectively. Now that Jess is fully settled into her career and has more of an online presence, she finds that she brings in about half of the work, but still relies on the agency to handle legal aspects, such as contracts, so she can focus on creating.
Does your sketchbook work feed into your client work?
"I think the things I draw are quite similar but the way I do it is very different. When I think of my client work, I think of digital work. Just because clients always want something changed and that's really hard if you've painted it. So my sketchbook is the place for [traditional work]. It is a relaxing thing for me because it's not for anyone... Despite it being really separate, I've had a lot of people be like, 'we love your sketchbook, can you do this?' The book I'm writing at the moment came from them seeing my sketchbook and loving the mixed media side of it. It's interesting to see how things are changing to follow what I'm posting on Instagram."
Why is sketchbooking important to you?
"Like I said, It's just so different from my client work. It feels like a fun thing - I can do anything in it. And it doesn't necessarily have to feel really cohesive with all my other work. It can be a bit weird and different if it needs to be. I feel like digital work can feel a bit constrained sometimes, so it's nice to just slap a bit of paint on the page and do what I want."
"Until late last year I was so bad at drawing landscapes. I needed somewhere I [could] practice that's not just a random loose piece of paper. I went on holiday to Cornwall last year and took a sketchbook and was like, 'I'm learning how to draw landscapes this week!' I sat down with photos every night painting. I still struggle with it a lot but I think it's one of those things you need to practice."
So you're five years into your journey and I know that a lot of illustrators look up to you, myself included, do you have any advice for illustrators wanting to make their hobby a career?
"When I started I would post everything. I think it's so important to get into the rhythm of posting stuff and putting your work out there on whatever platform that may be. Instagram may not be the best place if you're just starting out, I think it's hard to get it going. Make sure you have a website too so that people can find you."
Talking to Jess about freelance illustration, hearing her thoughts, and seeing her sketchbook was incredibly inspiring for me, and I learned so much. I hope you feel more confident in taking your artwork to the next level or just feel simply inspired to create. Let me know your thoughts and feelings in the comments below!

You can find Jess and her work on her website, jessicasmithillustration.co.uk and her Instagram @jessica_smith_illustration. Jess also has a Patreon where you can access tutorials, paint alongs, and advice.

Thanks for reading, I hope you have a brilliant day full of inspiration, joy, and colour!

- Morgan

Shop Jessica's sketchbook
Shop sketchbooks
Did you enjoy this blog post? Read more 'inside the sketchbook' articles below:
Comments (0)