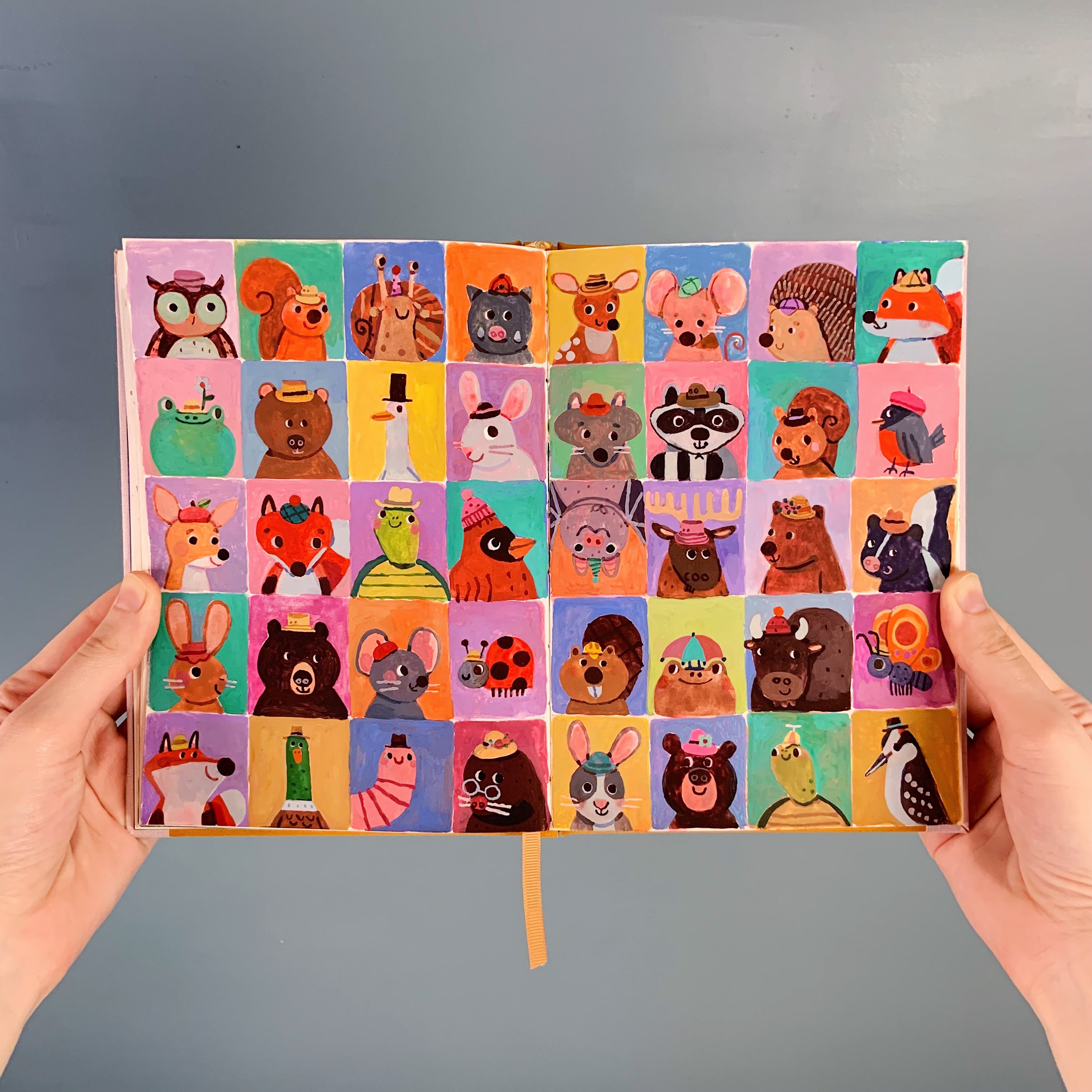 Join us as we tour the sketchbook of freelance children's book illustrator Danielle Bennett. We discuss influences and how to wield them to develop a truly unique voice, as well as the multiple ways Danielle utilises sketchbooks to enhance and inform her creative practice. Her wealth of knowledge, coupled with her experimental sketchbook pages, makes this blog post something that you really don't want to miss! I had such a fantastic time talking with her, and I hope you have just as much fun reading about it.
Danielle using her Indian Yellow clothbound sketchbook.
I've been following Danielle for quite some time, and it has been a joy seeing her work evolve over the years. Learning about how she achieved this during our talk was fascinating. From working as a graphic designer sharing her inktober paintings to becoming a freelance illustrator working on multiple picture books, Danielle's journey has been an impressive one. She has been a long-time customer of ours since even before Odd Orange existed, back when I made sketchbooks for fun in my free time. She has one of my 'old school' sketchbooks from my first ever collection, so it's understandable why I was so excited to interview her for this blog post.
Danielle's studio in Ontario. If you look closely, you can find a sketchbook from each of our three collections!
Who is Danielle Bennett?
Danielle Bennett is a freelance children's book illustrator based in southwestern Ontario, Canada. She studied fine art with business at university before securing a job as a graphic designer. However, she soon realised that her true calling was illustration, and began to spend much of her free time exploring and developing her artwork. After taking part in a children's book illustration course and furthering her portfolio, clients starting commissioning her for various picture book projects.
Sketchbooks, Sketchbooks, Sketchbooks
Sketchbooks play a key role in Danielle's process and she often uses multiple ones at once, each for different purposes. She emphasises the importance of not being too precious with them, instead using them to plan, experiment, and play.
"The purpose of a sketchbook, for me, is to use it and gain value from it. Whether that's drawing practice, gathering ideas, figuring out how I'm going to draw something, [or] figuring out how materials work. That is the purpose of a sketchbook for me. A sketchbook does nothing for me if I don't use it and it just sits there."
She uses her sketchbooks for four main purposes: messy sketches and planning, studies, material tests, and fun.
Messy Sketches and Planning
Danielle likes to use cheap sketchbooks with lots of paper for her rough planning work.
"I use them for anything and everything: ideas, observational drawing, gathering visual information from references, [and] thumbnails. Just the 'throwaway' drawings. I like to have them in a sketchbook because otherwise I'd just have a bunch of loose paper everywhere."

"It's usually where things start... as lots of doodles, just working an idea until I have something. Often, I'll take a picture of a sketch I really like and bring it into Procreate and make the design of the illustration a bit more structured, and then I'll move from there."
She'll fill pages and pages of these "messy sketchbooks" before finding "nuggets" that she can take and turn into fully fledged ideas. "Quantity over quality" is the key for this kind of sketchbook work.
Studies
"Even the smallest and most mundane experiences are valid and worth putting into your art… I think those are the things people connect with and makes the art feel more real."
We spent a lot of time discussing style and how every artist is unique due to the combinations of influences that go into their work. This is clear in Danielle's pieces, in the distinctly Canadian landscapes, plants, and animals that she gravitates towards.
"Your style and your voice are very much your interpretation of how you see things and then how it comes out of you."

"Even though I stylise a lot and I strive to simplify and abstract, I think the core of what I'm doing is based on something I've experienced or something I've seen. I think that's why I do studies so much."
During her time discovering her own unique voice, Danielle felt that studies had one of the biggest impacts in forming her style. She shared how after studying things repeatedly and from memory, her resulting illustrations became inherently personal and unique.
"That reference gets warped from what it originally was... It's gone through you many times, it's no longer the original thing anymore, it's influenced by something but it is more your own, especially through memory."
Material Tests and Fun
"I love art materials so much and the act of using them. Even if I don't have an illustration in mind, just the act of drawing on paper, mixing colours, and seeing the colours react with each other visually. I just get a lot of enjoyment out of using materials without any specific purpose, so it's a big part of my sketchbooks. It's just very therapeutic."
Keeping her sketchbooks a fun and pressure-free space, Danielle will often fill up pages with material tests and experiments. Sometimes she lays paint down for no reason at all, other than for the simple act of using it and watching it react. This is a type of automatic drawing, creating art without a purpose or end result, purely for the meditative experience of it.
"When I have a need to make art but I don't know what to make, sometimes the best thing for me to do is fill a page with swatches of colours."
Sometimes there is a purpose when she's playing with paint, be it to familiarise herself with a new material or colour, or to test out mediums for an upcoming project.
"A lot of what I do is putting down a few colours, then a glaze over the top and seeing how colours mix and react. I feel like that gets me so familiarised with the material itself, so when I'm making a finished piece, I understand how the materials work and I can act more intuitively."
Whilst Danielle enjoys a lesser quality "messy sketchbook", she also gets great value from higher quality ones, like our own.
"It's nice to have a cheap sketchbook, you really don't have the pressure to fill it with nice drawings, but on the other hand it's really nice to have a sketchbook that has good paper that really makes your materials and colours shine. Sometimes with the not-so-nice paper, you don't really get the full effect of your materials."

"When you want to experience what the paint can really do, that's the joy of using a good paper."

"At this point where I'm at, I'm ok with higher quality materials. I'm not so precious with them. I find that it's much better if I use the thing, instead of letting it sit and not be used - what's the point of that? So I get really satisfied when I've finished using a material that was expensive. It just means that I used it and it was worth it."
It was so incredibly inspiring chatting to Danielle. I learnt a lot and it made me itch to go and make some art! One of my main takeaways from our conversation was her deep innate passion for creating. I know I gained so much from our conversation and I hope you feel the same. Let us know in the comments what you thought and if you'll be taking any of it into your own work!
Make sure to visit Danielle's website, daniellebennett.com, and instagram @daniellebennettdraws to see more of her work. It's also worth signing up to her newsletter to keep up to date with all the exciting things she's doing!
Thanks for reading, I hope you have a wonderful day full of joy, inspiration, and colour.
- Morgan
* All sketchbook scans were taken from Danielle's Odd Orange sketchbooks. 
Did you enjoy this blog post? Read more 'inside the sketchbook' articles below:
Comments (1)