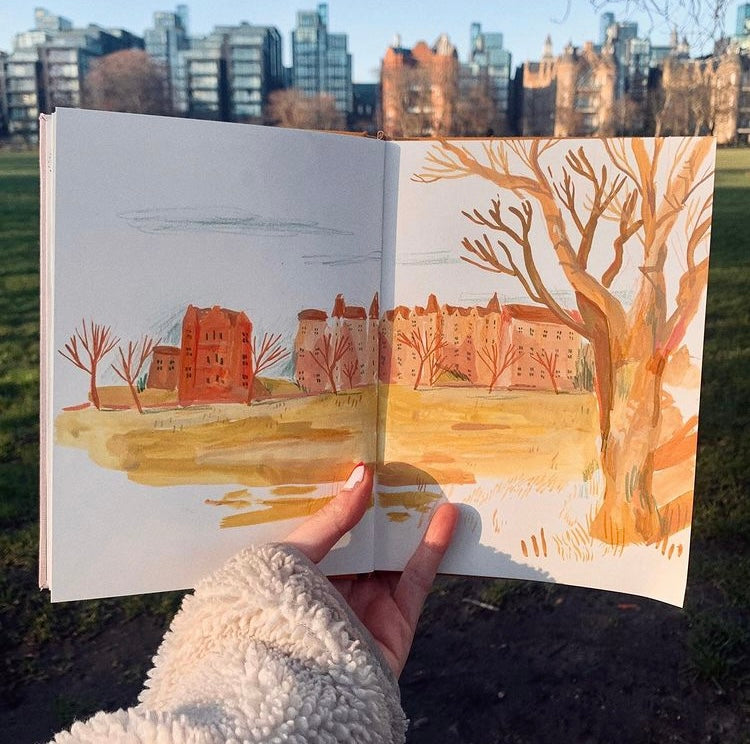 Tour the sketchbook of illustrator, Magali Franov, as we discuss drawing on location, the importance of sketchbooks, and being inspired by your surroundings. Magali gives some fantastic advice on drawing without fear and embracing experimentation in your work whilst sharing some seriously heart-warming and joyful sketches.
Magali with her Indian Yellow Clothbound Sketchbook.
I recently interviewed Magali for the first instalment of my new series, 'Inside the Sketchbook'. My hope for this series is to de-mistify the creative process by showing what goes on behind-the-scenes and how artists develop their visual language. As an artist, I always find it fascinating to glimpse inside the sketchbooks of those that I admire: to see their thought processes, ideas, feelings, and mistakes. Sketchbooks are often so personal it's such a privilege to look inside them and to be able to share them with you. I've been a fan of Magali's work for a while and after seeing her fill up her Odd Orange sketchbook on Instagram, I knew that she had to be the first person I interviewed for this series.
Magali is an illustrator from Basel, Switzerland, studying Illustration Fiction at university. She describes her work as "still explorative" as she's "trying to figure out who [she is] as an artist" and "trying not to limit" herself. She is currently based in Scotland for a semester abroad at Edinburgh College of Art. It's been wonderful to see her work evolve during this time, not only in the Scottish landscapes of her sketchbook, but also in the sense of freedom that her work has taken on. She finds the course "very self-directed", giving her "a lot of time to work on [her] own projects".
How are you finding Edinburgh, and how do you feel it's influenced your work?
"I'm loving Edinburgh! It's such a nice city and I feel very at home. I've been able to do a lot of drawing outside during my time here because, at home, most of my time is taken up by uni work. Here I've had more freedom to focus on what I want to do and what I feel is important for my portfolio. Most of my Edinburgh sketchbook is taken up by drawings I've done outside and I've gotten a lot more comfortable with that. I used to force myself to draw outside and would mainly draw from photographs, but now I've completely turned! Drawing from photographs can sometimes be so cold. I can even see it when I look at my other work - they don't have the same energy [as my location sketches]."
What are your tips for drawing on location?
"Take a limited amount of art supplies. It helps me to not get overwhelmed and it's a lot more practical than having to carry around a lot of stuff. Before I go out I like to decide what I'm going to take, I either take just my pencil or a couple of coloured pencils. I like to pick out a colour palette before I leave. When I decide to take wet mediums, I like to take gouache because you can reactivate it."
"Try not to produce anything perfect. If you're scared to draw outside, just do a quick sketch, snap a photo of it and finish it at home. It still conveys the energy of being out on location."
When discussing the self-consciousness and fear that sometimes comes along with drawing in public, Magali encourages you to "allow yourself to take up space and not be scared of people seeing what you draw." After working in different sizes of sketchbooks, she found that "having a smaller [A5] sketchbook has helped [her] a lot". Besides its portability, she finds it makes it harder for people to look at what she's drawing.
What are your favourite materials to use at the moment?
"My most used [medium] is just a mechanical pencil with a soft lead. I replace the lead with a 2B one because I [can] be precise with it and the soft lead makes it look darker. I really like using gouache when I work with colour, [as well as] liquid watercolours with a dip pen. I like to combine mediums."
You've just finished your first Odd Orange sketchbook! How did you find it?
"I'm not just saying this because I'm talking to you, but it's my favourite sketchbook I've used! The quality is so good and I love the colour [of the cover]. The paper is perfect because it takes all the mediums I use really well. I like to use gouache and ink and it doesn't buckle. It allows me to do everything I want. I also love how it's not too textured because it works well with wet mediums but also with pencils - they just glide on!"
Why is sketchbooking important to you and your work?
"I've probably been keeping a sketchbook consistently since I was 11. My dad encouraged me to start one because I used to be a perfectionist. [He] always told me not to erase anything, just draw it again - that's how you practice. Sketchbooks are a place of exploration, trying new things, and not having the pressure to produce something perfect. I like to use it as a sort of diary because I can look back and see how I've evolved, which is something that you can sometimes forget when you're frustrated with a drawing. I love having a sketchbook as a place for keeping those memories and seeing my progress."
Seeing Magali's sketchbook and hearing her thoughts and advice was so inspiring for me, and I'll be taking a lot of it forward with my own work. I hope you've learnt something new as well, do feel free to let me know your thoughts in the comments. Also, make sure to visit Magali's website, magalifranov.com and Instagram, @magalifranov, to see more of her wonderful work!
Have a brilliant day full of inspiration, joy, and colour.
- Morgan
Did you enjoy this blog post? Read more 'inside the sketchbook' articles below:
Comments (3)