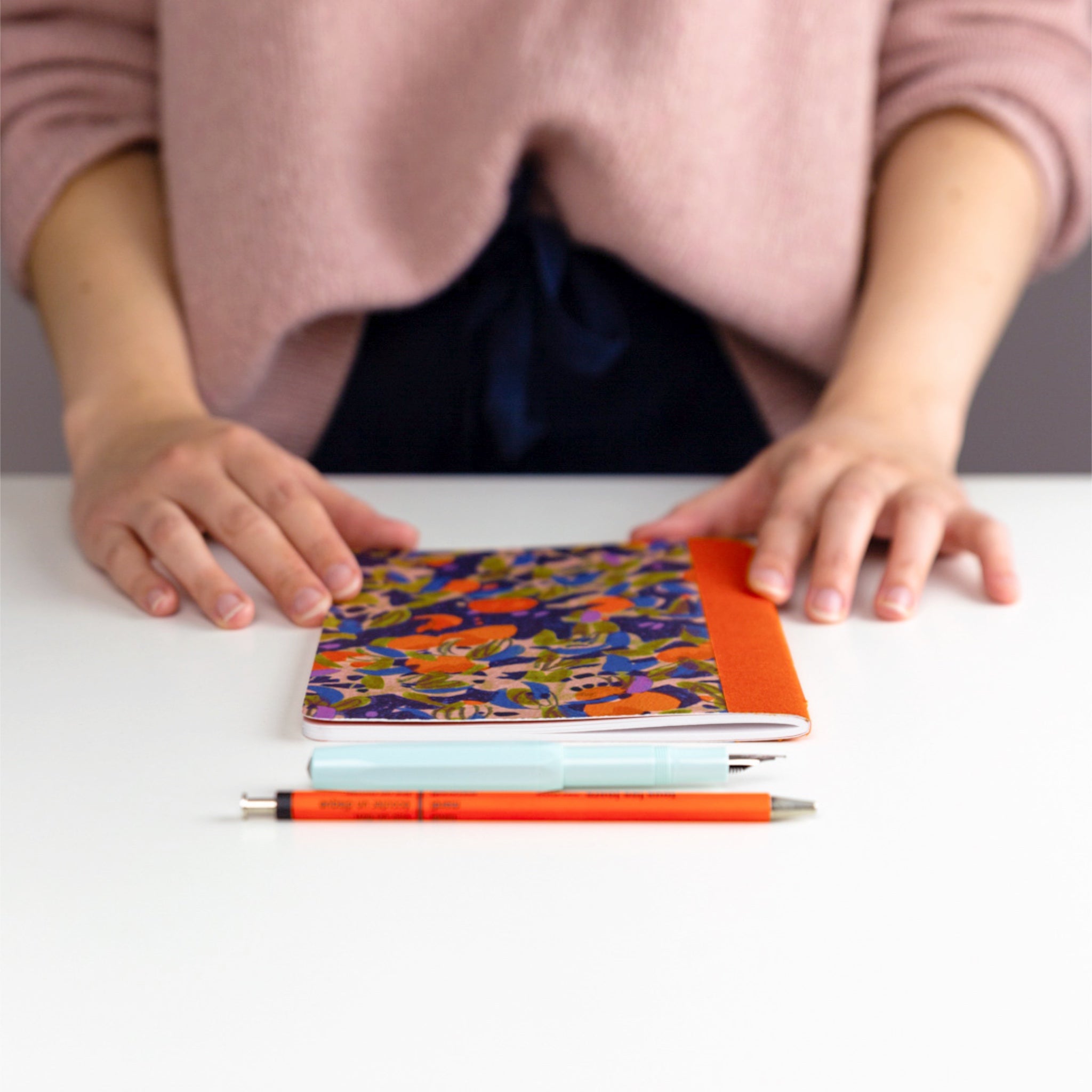 With so many styles, papers, and designs to choose from, it can sometimes be difficult to find the sketchbook that perfectly fits your lifestyle and artwork. So we're here to make your life a little easier by giving you a breakdown of each of our sketchbooks, what we think works best for each purpose, and what may suit your work the most. Side note, this is just our opinion, so feel free to use whatever sketchbook you want, however you feel. Art has no rules, after all!
For everyday use at home or in the studio
This is where our 150 gsm fine grain paper shines. The lightest of the two mixed-media papers, this option is perfect for laid-back daily use. At 150 gsm, it's robust without being too bulky. It has high absorption and an outstanding colour pay-off and vividness. With a smooth surface and a slight tooth, this paper can hold graphite, coloured pencils, pastels, and markers exceptionally well. Paint and wet media also sit nicely, but we recommend avoiding multiple layers of water. Our customers enjoy this paper for its mixed-media properties and casual feel. They have found the lighter surface less intimidating than heavier stocks, giving them the freedom to explore creatively, make mistakes, write notes and doodle. If you're looking for art paper to use in your daily practice, this one's for you, and even better, it's available in both paperback and hardback!
For on the go
Although all of our sketchbooks are brilliant for travelling and creating on the go, our absolute favourites for this purpose are our 190 gsm B6 hardback sketchbooks and our 150 gsm slim sketchbooks. The B6 size is smaller than the alternative A5 and can fit into the palm of your hand comfortably, ensuring that the other hand is free to draw or paint - no fancy set-up required! The hardcover acts as a backing board and the sketchbook opens completely flat. Even though it's pocket-sized, it still gives plenty of space for detailed work. Alternatively, our slim sketchbooks are really lightweight and can be folded back on themselves for easy manoeuvring when creating. We like to take these on museum visits and try to fill the entire book whilst we're there, it's a fun challenge!
For creating freely without fear
Our 150 gsm slim sketchbooks are perfect for those that sometimes feel intimidated by sketchbooks or hold a lot of fear in creating. The lighter weight paper encourages looser work and the softcover makes the sketchbook feel less precious. Also, because there are fewer pages, it can be filled up much quicker, giving that lovely satisfying feeling of finishing a sketchbook a lot sooner.
For exploration and more 'finalised' work
Want to explore more with the different mediums that you have? Or planning to create more in-depth finalised work at home or on location? Then our 190 gsm hardback sketchbooks are perfect for you. Suitable for both wet and dry media, the creamy smooth surface allows for lots of detail; taking pencils, ink, pastels, and gouache remarkably well. The natural white surface ensures an accurate colour pay-off and high levels of vividness. Our customers enjoy this paper for its mixed-media properties and heavyweight. They find that it allows them to explore their practice without restrictions, using their favourite materials with no fear of show-through or buckling. If you're looking for art paper that can take almost everything thrown at it, this one's for you.
And there we have it! I hope you feel more confident in finding your perfect sketchbook from the Colour Story range. Do let me know if you have any questions.
Thanks for reading!
- Morgan
Comments (0)