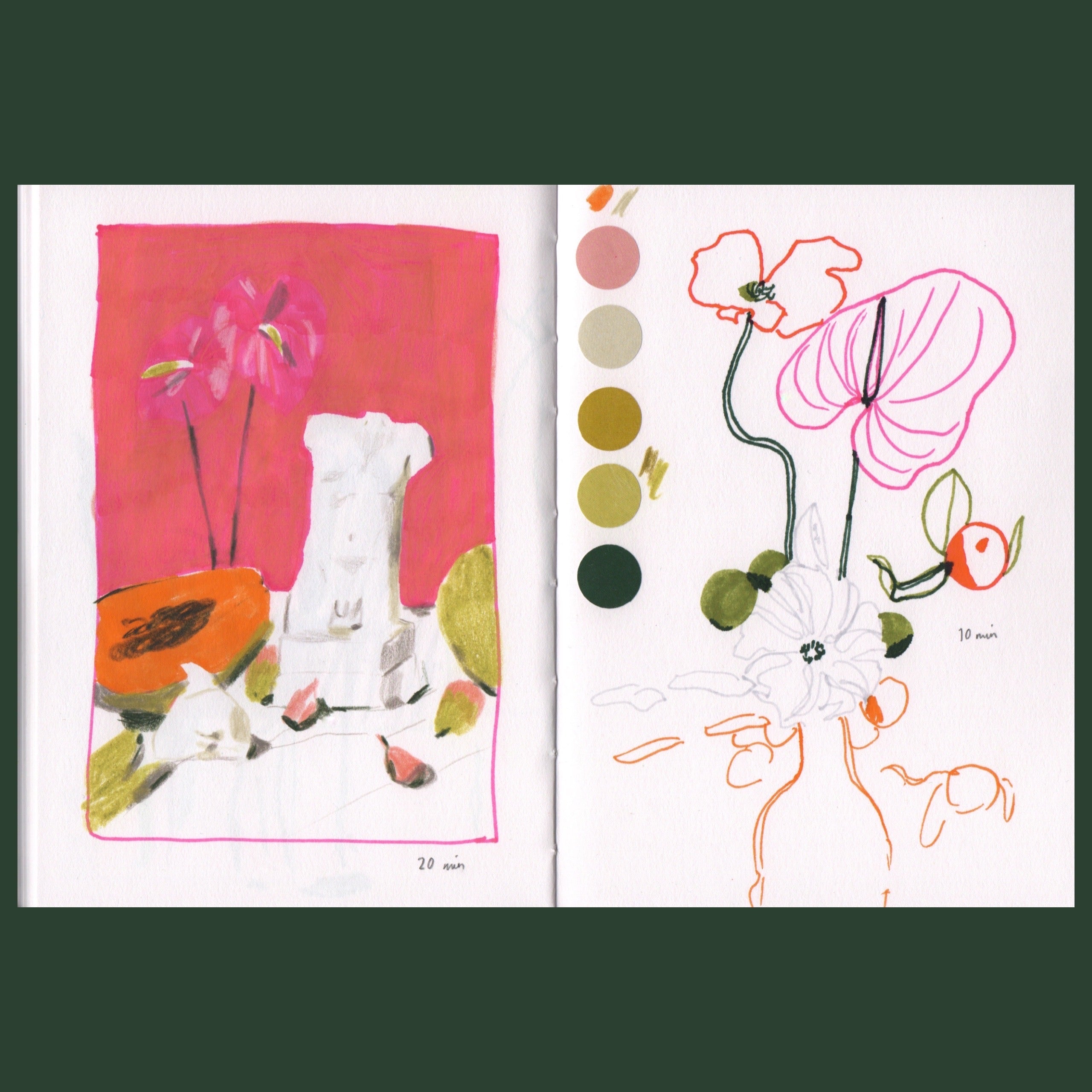 I'm back with another blog post, a continuation of '5 Ways To Fill A Sketchbook'! It did so well that I thought I would do another one, so here are 5 new subjects and methods that you can use to tackle that first-page fear and fill up your sketchbook!
1 - Drawing From Film Stills
I love drawing from film stills. They do almost all of the work for you in creating a successful image. The compositions, colours, and narrative are generally very considered, and they're great practice for creating compelling narrative scenes. My favourite resources for finding film stills to draw from are Film Grab and Shot Deck. Both websites have a database of images that you can search for based on various factors. Film Grab is free, and Shot Deck is paid but does come with a free trial.
2 - Mapcrunch
Mapcrunch was a game-changer for me in lockdown, when I wanted to draw landscapes on location but couldn't leave my house. The website pulls random street view images from all across the world that you can flick through and use as drawing references. You can also filter by location, which is a really nice feature if you're interested in a specific area.
3 - Museum Visits (Real-Life and Virtual)
Museums are jam-packed with inspiring artefacts, objects, and paintings that you can document in your sketchbook and use for future projects. Going to a museum and spending the day drawing is an incredibly fun and beneficial experience. However, we can't always access these amazing museums, so that's why virtual museum tours are so brilliant. Search for your museum of choice and quite often they will have a virtual tour on their website that you can use to move around and find references to draw from. Here's a great article that lists some of the best virtual museum tours that you can check out.
4 - Old Reference Books
Old, second-hand reference books are a brilliant resource for drawing any subject matter. My favourites to use are botanical encyclopedias and bird watching books. These are often filled with beautiful photographs or traditional watercolour illustrations that you can draw from. Most charity shops and second-hand book shops are filled with these, so go exploring and search for some brilliant old books!
5 - Still Life
One of my favourite things to do when I feel like drawing is to set up a still life at home with a collection of objects around my house. I will then use this to draw a series of images from different angles and with varying time limits. You can do this with anything you have lying around - be creative! The Instagram account Still Here Still Life are a great resource for still life photography. They post a new photograph every week that you can draw from and already have loads posted for you to choose from.
And those are 5 more ways to fill a sketchbook! I hope you feel inspired and ready to fill up your Odd Orange sketchbooks! Let me know in the comments if you found something new and if you're going to use any of the methods we discussed today.
Happy drawing!
- Morgan
Did you enjoy this blog post? Discover more ways to fill your sketchbook:
Comments (1)