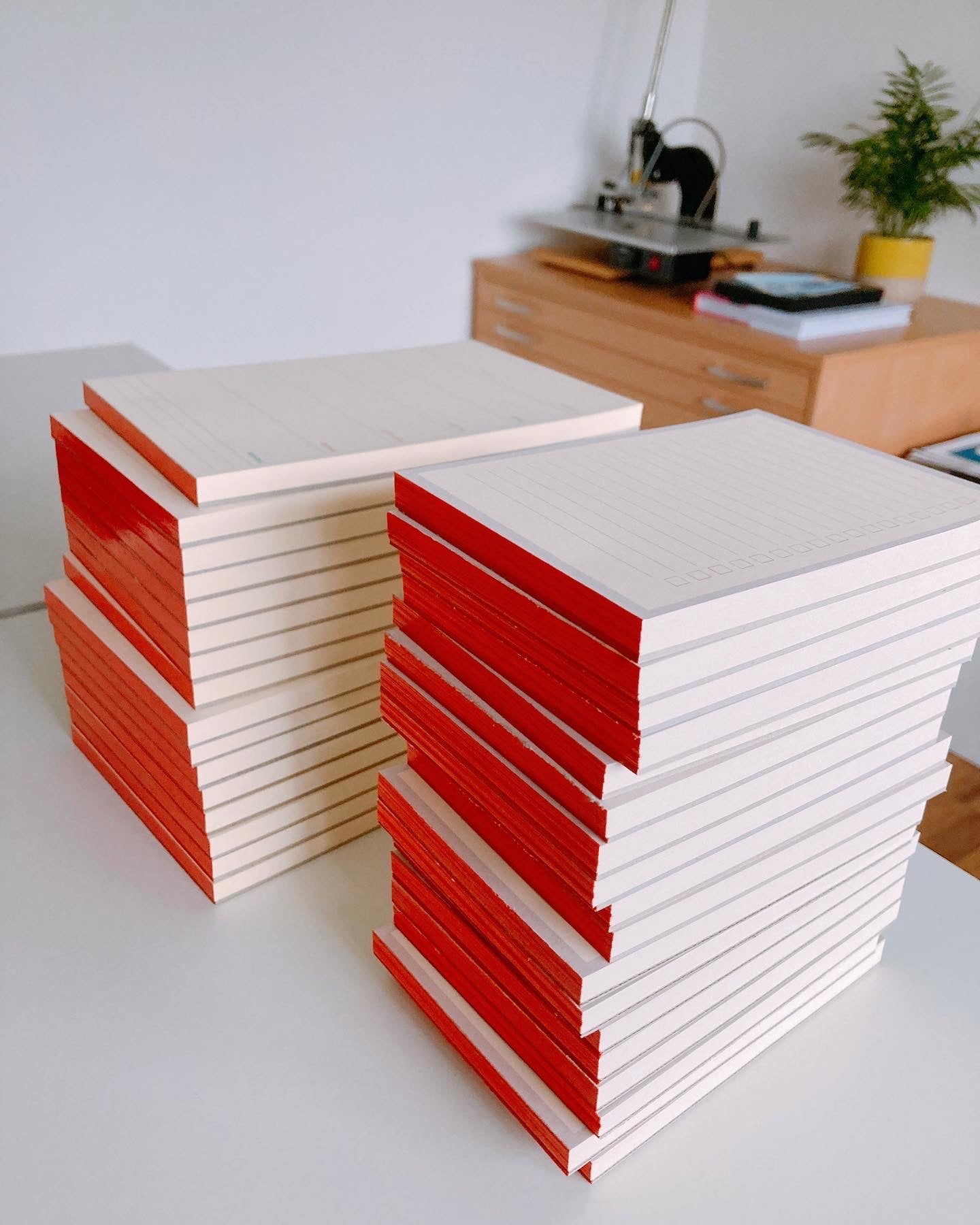 I'm a huge lover of the desk pad, heck, Odd Orange was built on to-do lists! Because of this, I knew that notepads needed to be the first thing I released after Colour Story. Everything aligned, and here we are, launching our first set of desk pads! These aren't your ordinary desk pads, though. In true Odd Orange fashion, we had to make them extra exciting, super colourful, and one of a kind whilst still being environmentally conscious. Today I'm going to talk to you about what makes these notepads special and share the behind-the-scenes of making them. Keep reading for some satisfying organisational content or shop new desk pads to level up your planning game.
You can still make pretty things and be kind to the environment.
For those familiar with our brand, you know that sustainability is one of our key driving factors. You'll never see us producing in huge batches overseas or using virgin fibres that haven't been responsibly sourced. Our notepads are no different and are made in small batches by hand from our Shropshire-based bindery and studio. All of the materials used are recycled from other projects and sourced locally. We used excess book board for the back of the notepads, and the writing paper originated from an abandoned print job from a local printer. However, just because it was salvaged, doesn't mean it isn't good quality. At 120 gsm, it's delightfully thick (and fountain pen friendly!), smooth to write on, and cream in colour. In fact, it's very similar to our notebook paper, just slightly darker in colour.
Handmade in Shropshire.
We started making these notepads by designing two styles: a list pad and a weekly planner pad. Having never sold notepads before, we wanted to start small with formats that we considered essential for organisation. I use list pads and weekly planners daily so I figured if they didn't sell well, I wouldn't need to stock up my personal stationery stash for a while!
We wanted to keep the formats for the desk pads quite simple, giving the user plenty of freedom when organising. I'm not a big fan of over-complicated notepads that label everything with little space to think outside of the box. This type of organisation only works for certain people and are likely to be forgotten when it no longer fits your lifestyle. Our list pads are simply that: a list of checkboxes with lines and a space for a title. This means that you can use it for multiple purposes, including shopping lists, to-do's, ideas, books to read, etc. Our weekly planner pads are undated with a title box at the top. This allows you to plan any day, consistently or not. You can use the title box to write the date, a list of priorities, a quote, your mood, anything!
So our designs were decided on and printed. Now it was time to make the notepads. We always like to go the extra mile with our products and take advantage of the freedom and flexibility that making things by hand allows. So, we came up with the idea of bringing a pop of colour to the gummed edge by mixing paint in with our glue. This gave our desk pads a pop of neon orange that I am absolutely obsessed with. The photographs don't do this vibrant colour justice but I can safely say that my days in the studio have been a little bit brighter and happier with these notepads on my workbench.
We then had the notepads trimmed (which is so satisfying to watch!) and then they were finished! Quite a simple process with an excellent result.
Thank you so much for reading about our desk pad production, I hope you found it enjoyable. Feel free to let me know what you think of these new products in the comments below. I hope you have a wonderful day full of inspiration, joy, and colour!
- Morgan
Comments (1)