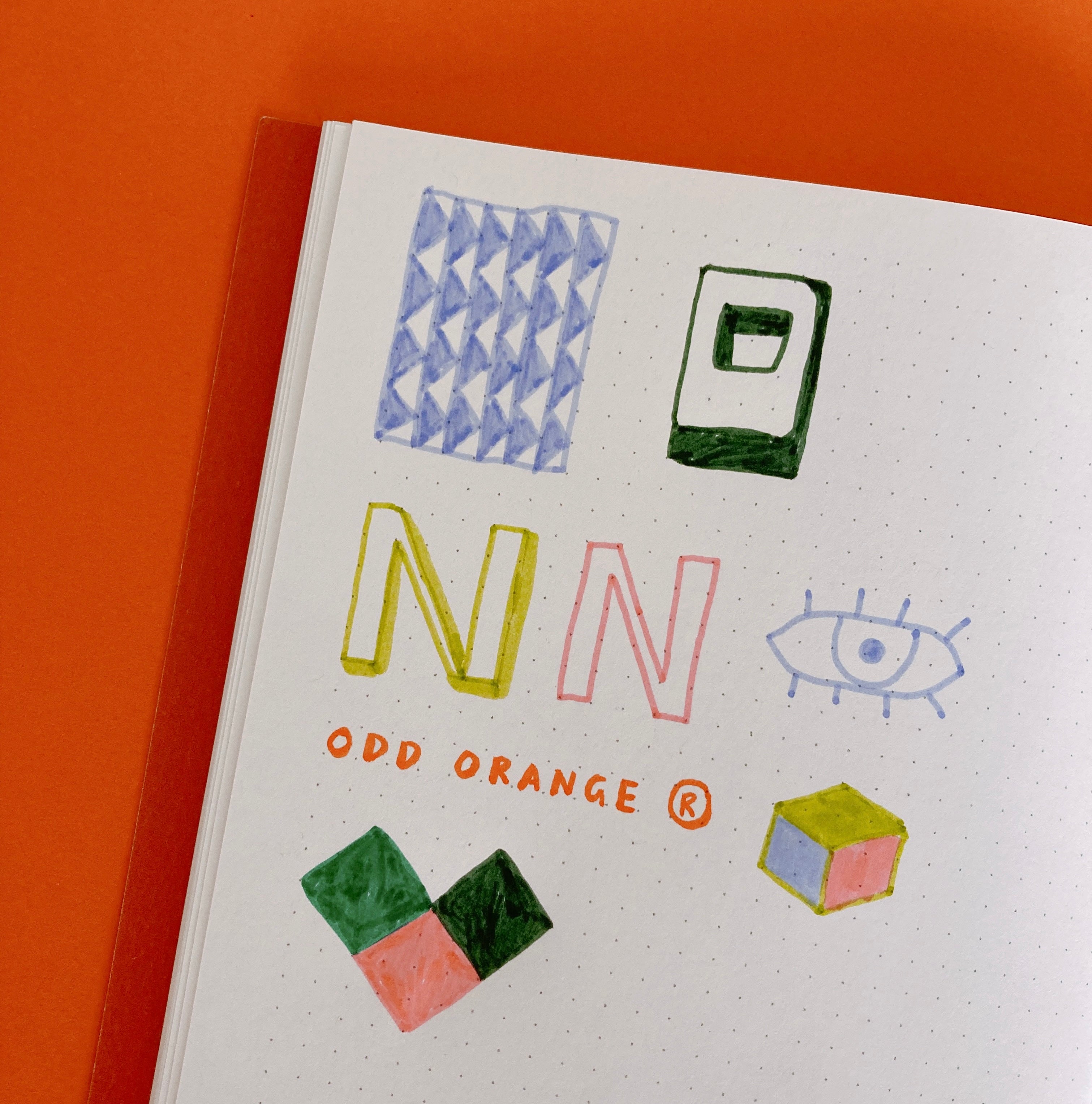 We love dot grid notebooks here at Odd Orange. With the guidance of lined paper but with the creative freedom of plain, dotted is a lovely in between - suitable for writers, designers, and students alike! Here's a list of our favourite uses for the dot grid format, hopefully it will spark some ideas for your collection of unused notebooks!
Art & Design
Dot grids and designers are a match made in heaven! We especially enjoy this format for creating geometric shapes found in logos, icons, patterns, and illustrations. It's also great for creating thumbnail sketches for upcoming projects. If you're looking for a well-rounded notebook to use in your creative practice, then consider our dotted notebooks. We like to use ours for a variety of purposes, such as sketching designs and patterns for Odd Orange, making notes, and even drafting shopping lists!
Bullet Journalling
Bullet journalling is a given for dotted notebooks! We offer this format in both hardback and paperback, perfect for all of your journalling needs. Even better, our writing paper is beautifully thick (118 gsm) and buttery smooth, making it fountain pen and marker friendly - perfect for even the most creative of spreads! We like to use our dotted journals to make weekly planning spreads and lists, we even have a dedicated 'business bullet journal', ideal for all of our business-y notes!
Writing Notes & To Do Lists
Like we previously mentioned, the dot grid format is great for making notes, due to the dots offering guidance without being too stuffy. The dots are a mid-grey colour, meaning that they don't overpower the page or distract from your handwriting. This also works great with to-do lists as the grid makes it even easier to draw perfect squares to tick off - now that it satisfying!
There you have it, our 3 favourite ways to use dotted notebooks! You can shop our selection of notebooks here or learn more about our writing paper here.
Let us know how you like to use your dotted notebooks, we'd love to hear about different approaches.
Happy journalling!
- Morgan
Comments (0)