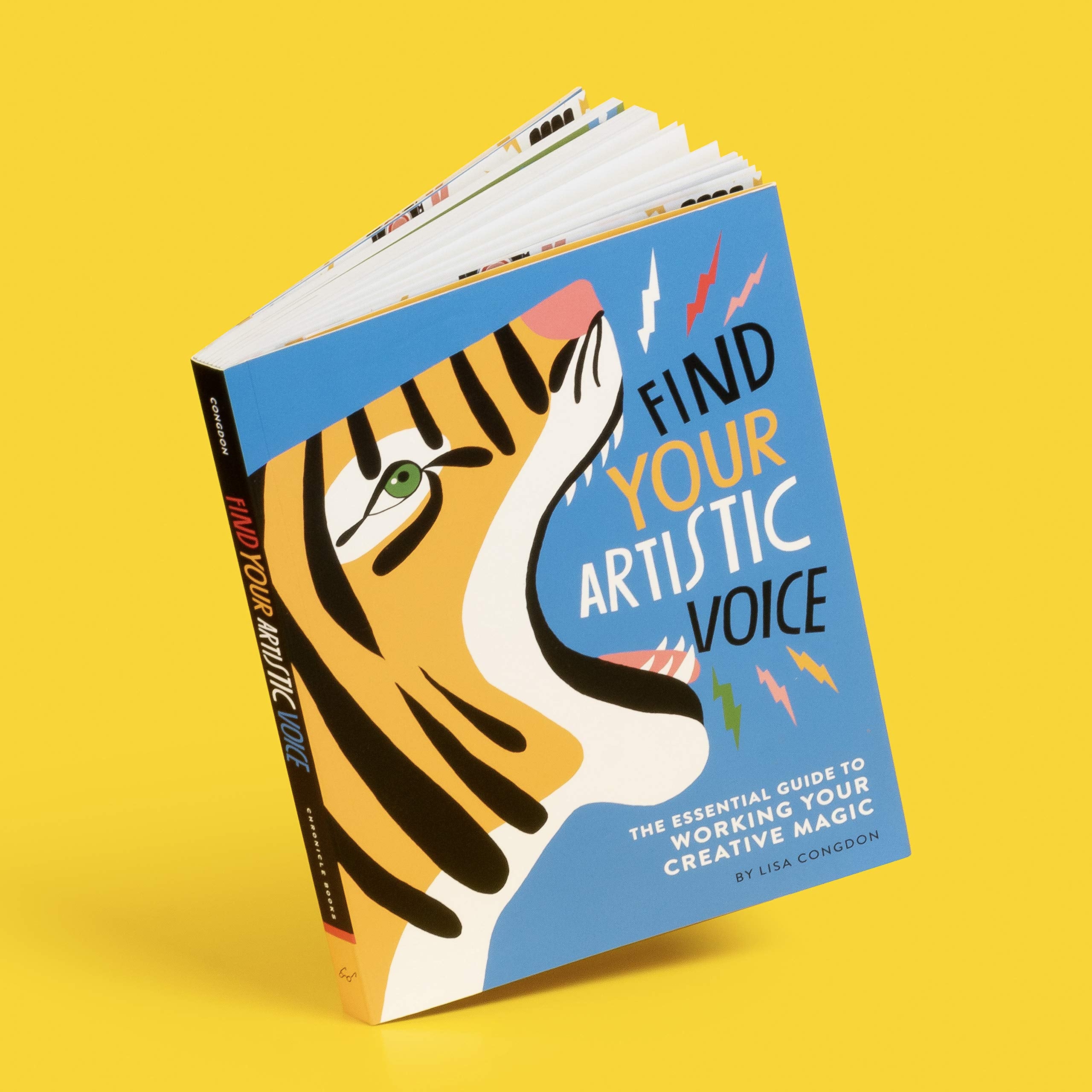 October is here, and for those of us in the northern hemisphere, autumn is now upon us. Although everything will soon be turning a delightful shade of orange, chillier days, longer nights, and less sun can sometimes make us feel uninspired. Snuggling up on the sofa with a cup of tea and a good book - yes. Drawing outside with fingers and toes slowly turning blue - not really!
Today I'm going to recommend some of my favourite reads to kick-start creativity during these seasonal slumps. So snuggle up, start reading, and get those creative juices flowing!
1: Find Your Artistic Voice by Lisa Congdon
This book was a godsend for me during my illustration degree when I felt like I didn't have an artistic voice. It discusses what a creative voice is, why it may or may not be important, and the different methods to uncover it. Filled with plenty of interviews with super inspiring creatives, Find Your Artistic Voice is a must-read if you're feeling a little lost with your work.
2: The Illustrated Dust Jacket by Martin Salisbury
Don't know what to create next? Look at what's come before! One of my favourite things to do when I'm uninspired is to look through art books, and The Illustrated Dust Jacket is one of my absolute favourites. This book provides a stunning exploration of dust jacket and cover design from the 1920's to 1970's, and is bound to inspire those that love books, cover design, and illustration.
3: Impressionism by Ralph Skea
Following on from my previous point, sometimes looking at artists that have come before us and exploring specific art movements can inspire us and positively influence our work. Impressionism by Ralph Skea is such a fun and inspiring book, giving easily digestible art history with plenty of pictures and inspiring stories. Although it's non-fiction, it reads like a fictional story and covers one of the most exciting periods in art history. A fantastic way to discover brilliant artists you might not have heard of and understand why they created the art they did.
4: The Artist's Way by Julia Cameron
I read The Artist's Way during a long period of art block and it completely changed the way I view creativity. Endorsed by a range of well-known and successful creatives, The Artist's Way is a 12 week programme designed to encourage creativity in your everyday life. It takes you through weekly tasks that focus on different topics and methods to become more in-tune with your creative side. It was a game changer for me, and I still follow many of the techniques two years after finishing it.
5: Alison by Lizzy Stewart
Non-fiction isn't the only answer for refreshing your creativity. When I'm in a slump I'll often revisit some of my favourite books and films. Sometimes those nostalgic feelings is all I need to kick-start my creativity. I also find reading interviews, blog posts, and books that explore art in an interesting way very inspiring, often giving me a new burst of creativity. My interview with Danielle Bennett was one of those experiences for me.
Another was a recent read of mine, Alison by Lizzy Stewart. A 'stunning and emotional' graphic novel, 'Alison tells the story of a young woman born into a quiet life in Dorset at the end of the 1950s'. She 'escapes in her twenties to the thrumming art scene of London' 'But the vehicle for her escape is an older man whose reputation as an artist and philanderer casts a shadow which will follow Alison for years.'
Besides being a beautifully illustrated graphic novel, the way this book covers art and the creative process made me itch for my paints. I absolutely adored it and will certainly be re-reading it very soon.
Those are my 5 book recommendations to kick-start your creativity! I hope you'll check out some of these reads and if you do, let me know what you think of them in the comments below.
Thanks for reading, I hope you have a wonderful day full of joy, inspiration, and colour.
- Morgan
Comments (0)