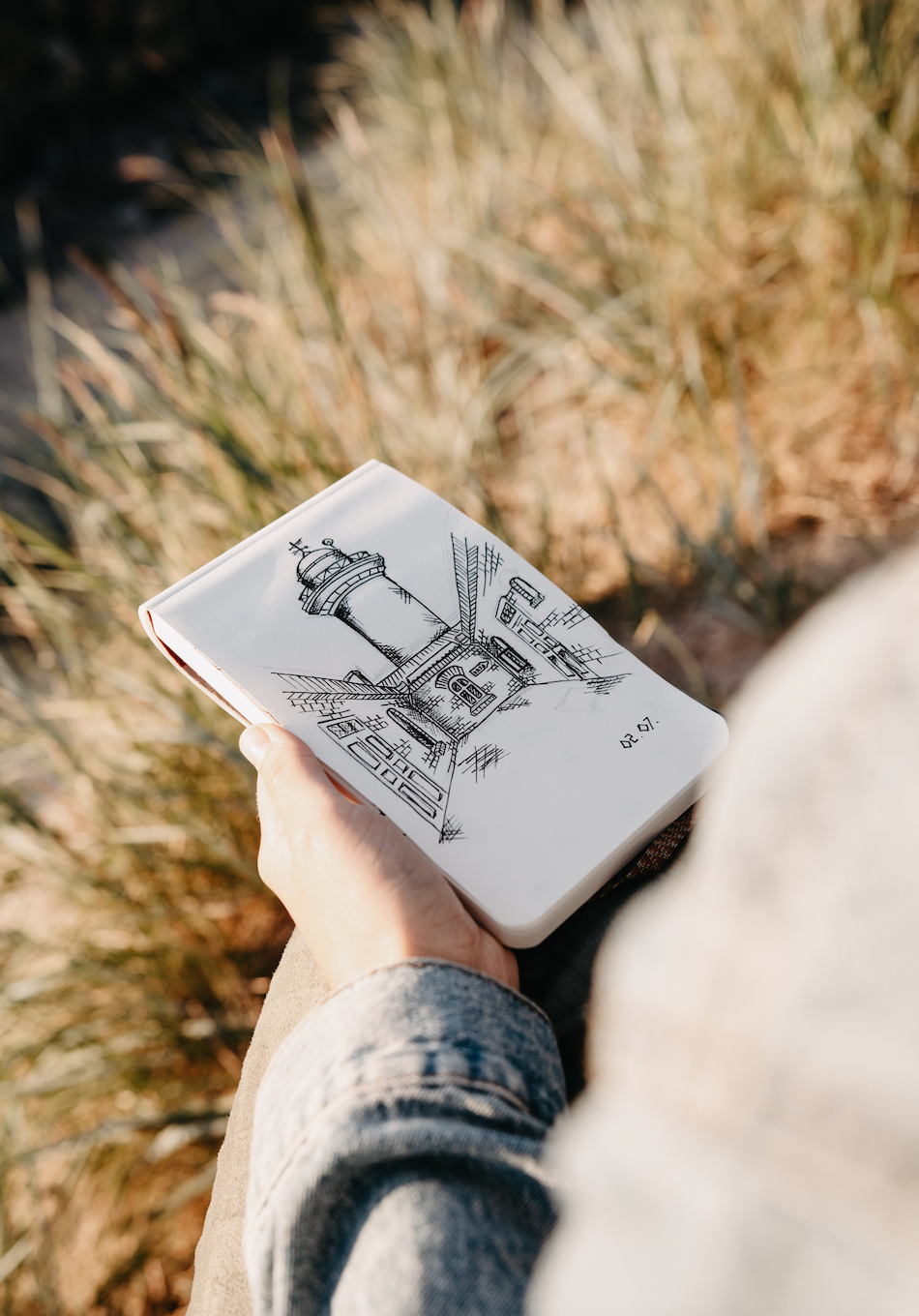 For hundreds of years, artists have packed up their supplies and practised sketching outside. Today, we have so many places to explore with our sketchbooks - from ancient woodlands, forgotten graveyards and cities grown from cobbled streets. By sketching outdoors, we become students of natural light, nature's details and fast-fading scenes. It's a freeing, mindful and humbling experience.
But when confronted with the possibility of creating in front of others, it's easy to give in to our fears, doubts and self-consciousness. It's easier to draw inwards and stay in the safety and security of creating indoors. So we would like to share some tools, tricks and techniques that have helped us widen our circle of creative comfort.
Step One: Get your mindset, materials and mini-prompts in order.
Leave Your Worries On The Page
It's normal to feel hesitant if you've never sketched outside before. But if you spill your worries onto the page beforehand, you can challenge them, then leave them behind. 
These worries could be:
"What if people come up to me and ask to see my work? Or, even worse, what if they want me to draw them!"

"I'm not good enough at drawing yet. Who do I think I am?! I need to keep practising in secret first."

"I really can't be bothered lugging all my stuff to the park today. Ugh."
Next, go back to what you've written and find ways to soothe your resistant thoughts.
"If people come up to me, they're probably curious creatives too. And if someone wants me to draw them, I can just tell them I'm gathering inspiration for a specific project at the moment."

"People might glance at me or my work for a second, but then they'll go straight back to whatever they were thinking about or doing."

"I don't need to take everything with me, just a sketchbook and a pencil. I can always finish off my work later with other materials back at home."

Beat Procrastination By Packing Light
Procrastination (which can be fear in disguise) may come in the form of waiting around for the perfect opportunity. But you can bypass perfectionism by keeping a sketchbook tucked away in your bag whenever you head out. 
We recommend using a paperback sketchbook for sketching outdoors. Paperback sketchbooks are lightweight enough to carry around, so you can draw whenever inspiration strikes. They are also flexible enough to set a casual, laid-back tone to your outdoor creative practice. There's no pressure to create a masterpiece the first go-around, as paperbacks are relaxed enough to welcome mistakes. Plus, our paperback sketchbooks are bound with mixed-media paper, so they're hardy enough to handle sketching in the elements.
List Mini-Prompts To Set Parameters
Sometimes, endless possibilities of what to draw can be overwhelming. To reduce overwhelm, you could use prompts such as: 
People in a hurry, or couples or wide-eyed tourists.

Old buildings that are crying out for some much-needed attention.

Scraps of nature that are about to turn with the season.
If you'd like more of a guide on setting creative parameters, we've put together a free-to download guide over at The Ultimate Creative Brief for Your Personal Projects.
Step Two: Getting Comfy In The Great Outdoors.
Start Wherever With A Sense Of Safety
Feeling safe to create could mean heading into your garden, going onto the balcony, or even looking out your window. 
Yes, the last one might feel like you're (slightly) cheating. But the point of this stage is to get used to looking at and drawing inspiration from things you can't necessarily control - which may be where your lack of confidence stems from. Sketching in changing light, weather conditions and possibly under time constraints offers another dynamic to your practice. A dynamic that may force you to: 
Leave sketches half-complete. 

Work at angles you're uncomfortable with. 

View things from a wildly new perspective.
 Any of these points may be enough to stretch your creative comfort zone for now, so if you need to sketch in an outdoor place you're already familiar with - go for it!
Stepping Out Further Afield
If you want to sketch more than a stone's throw away from home, why not go on a brisk walk to get there?
Walking at a moderate pace can help get your blood pumping, which clears the mind, lowers anxiety and gets the creative juices flowing. Then, when you're ready to settle in at your chosen spot, you'll be primed to start sketching.
If, however, you still feeling a little nervous when you get there, it's okay to:
Put your headphones on and create a little bubble around yourself.

Tuck yourself away on a quiet bench and sketch from there.

Simply hold your pencil and breathe. There is no pressure to actually draw. You showed up to your sketchbook and that's what counts.

Remember, even if you're self-conscious about drawing outside, nobody else knows what you're feeling but you.
Step Three: Ready, steady, sketch!
Get Unstuck By Slowing Down
Hopefully, you'll be ready to get stuck in and draw inspiration from what's around you. But if you're still feeling stifled, here are some bonus tips to get you going:
Promise yourself that you don't need to finish what you start. Learn to be okay with leaving pieces unfinished.

Set realistic expectations for the outcome of your work, as you may be working with forms you're not yet familiar with.

Set a timer for 10-20 minutes, and know that if you're not vibing with your surroundings by the end of the timer, you're free to move to a different spot or go home.
Remember, building confidence in creating (no matter the setting) is a muscle we're all constantly working on. If you've enjoyed this post and would like some more inspiration on drawing on location, you'll love our interview with our good friend and talented illustrator Magali Franov.
As always, if you do manage to get out and about with your sketchbook, we'd love to take a peek at your work over on Instagram. Make sure to tag us @oddorange.stationery!
Written by Caitlin Layfield.
Comments (0)