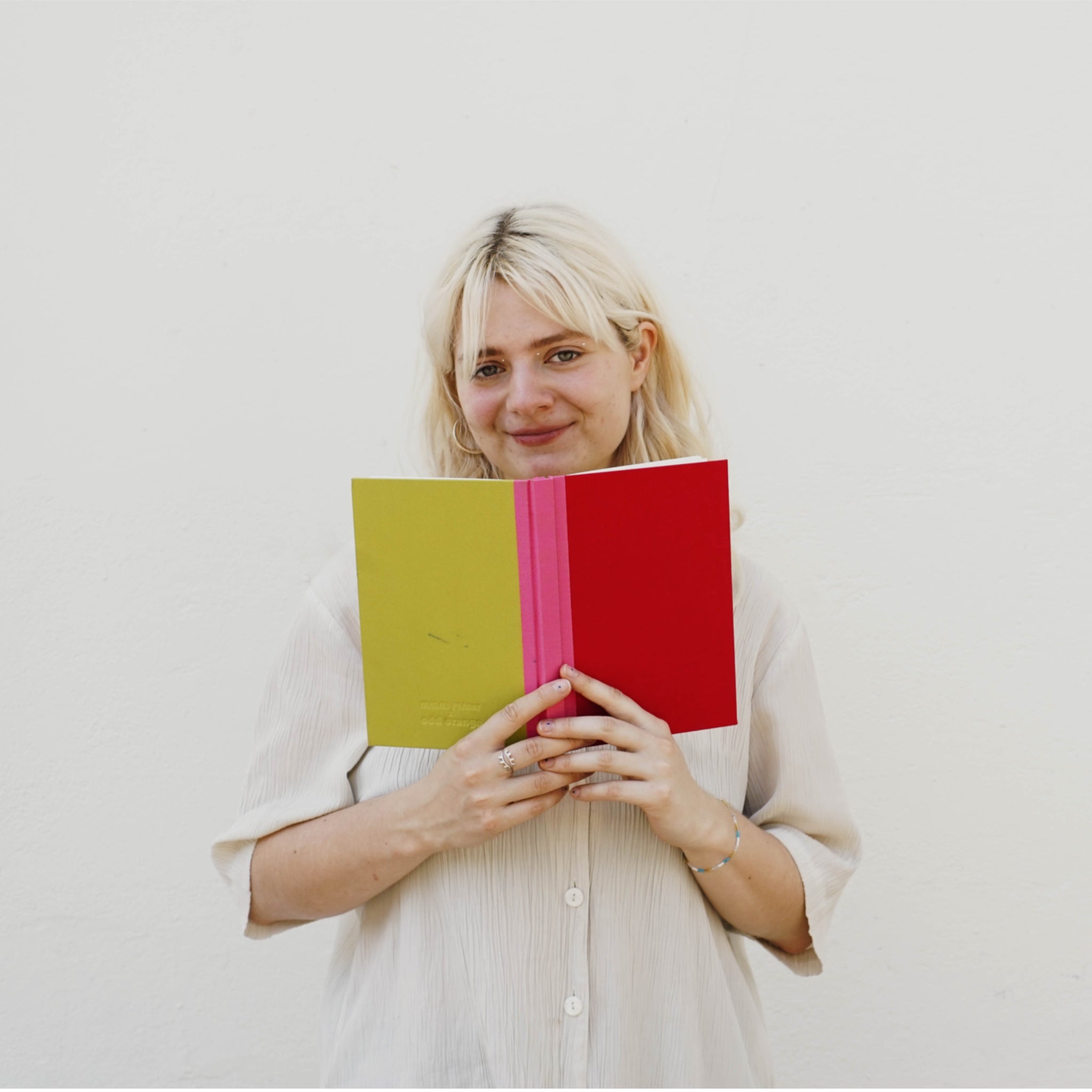 For the last six months I've been working on a super exciting project: collaborating with the wonderful illustrator Magali Franov on a limited edition sketchbook! Keep reading to find out all about the sketchbook, how we created it, and what we learnt along the way!
Magali Franov is an illustrator based in Basel, Switzerland. Her whimsical and joyful illustrations have always inspired me and I'd been considering collaborating with her for a while. We've followed each other on Instagram for years, back when I was a freelance illustrator. After I made the jump and started Odd Orange, Magali was one of my first customers. She's been a big supporter from the beginning, and I owe a lot of my early success to her (especially thanks to her sketchbook tour video). When I finally felt ready to work on a collaboration, choosing Magali was a no-brainer.
Ever since starting Odd Orange, I've wanted to collaborate with other artists to create fun and unique stationery. I wanted to widen my circle and give back to the creative community with paid work and new materials. Just over a year after launching, I finally achieved it.
The Magali Franov x Odd Orange Limited Edition Collaboration Sketchbook.
Over the last six months, we've combined our tastes, personalities, and passions to create a sketchbook that feels entirely our own. Featuring a colourful cloth cover in poppy red, hot pink, and chartreuse, this sketchbook gives all the Summer feels. We chose to include a matching pink ribbon bookmark to keep your place, and have used my best-selling Heavy-Duty Artist Paper for the inner pages. They're A5 in size and incorporate my signature lay-flat binding, perfect for working across the page. However, what makes these sketchbooks truly special is Magali's stunning hand-painted patterned endpapers.
We have made only 105 of these sketchbooks and as they're limited edition, we won't be re-stocking them. They'll be hitting the website tomorrow, Wednesday the 31st of May at 6pm BST, so make sure to set an alarm if you're hoping to get your hands on one!
Getting Started and Designing
I'd been thinking about collaborating with Magali for a while when surprisingly, she sent me a message asking about the very same thing. It felt like fate, and we jumped on a Zoom call and started planning soon after.
We started designing the sketchbook in December 2022, with production beginning in April 2023. We spent much of that time discussing the format of the sketchbook, colours, patterns, and our plans for the collaboration as a whole. This was quite a lengthy process as we wanted everything to be perfect - and it turns out we're both quite indecisive!
It was a joy watching Magali come up with and create the pattern for the sketchbook. We started by exploring floral designs, but completely changed route when Magali showed me a series of doodles she'd made whilst painting. I loved the looseness of it, it almost seemed like automatic drawing - drawing meditatively without a final product in mind. It was fun and unlike anything else I'd seen before. I also thought it could act as inspiration for my customers - if you didn't know what to draw, you could find an idea within the pattern. I could tell Magali was much more excited by this design, and so was I, so we moved forward with it.
Check out Magali's blog post to learn more about the designing of the sketchbook.
Our initial colour palette mock ups.
Magali working on the pattern for the endpapers.
Magali taped book cloth swatches to her wall to help with choosing the palette.
Making the Sketchbooks
Making these sketchbooks was a whole new experience for me. Firstly, it was the first time I'd made a sketchbook with someone else's art and I wanted to do it justice. Secondly, I'd never made so many clothbound sketchbooks in one go in such a short space of time. I made 120 in total, which took 2 months of intense work. As well as some mix ups with suppliers (and a minor trimming disaster), I got quite ill part way through, which set me back a few weeks. Luckily, I had some help from a wonderful friend, allowing me to finish just in time.
All the book blocks. To get to this point, I cut stacks of paper down to size, folded them, poked holes and sewed them together. Glue was then applied to the spines, endpapers were printed and added, and everything was trimmed using a huge industrial guillotine.
The book blocks with ribbons and endbands added, and mull glued to the spines for protection and durability.
I embossed the back of each sketchbook with our logos using my hot foil press.
All 120 covers made and drying, ready to be attached to the book blocks.
Sketchbooks finished and stacked, ready for quality checking, numbering, and packaging.
I gave each sketchbook a number out of 105.
We also made bookmarks and mini prints to be included with each sketchbook.
Finally! All finished, packaged, and ready to go!
I'm so proud of how these sketchbooks turned out and I had so much fun working with Magali on this project. I can't wait to see how this is received and start planning more collaborations in the future. Make sure to check out Magali's blog post about her experience with this project, and set your alarms for Wednesday the 31st of May at 6pm BST!
I hope you have a wonderful day full of joy, inspiration, and colour!
- Morgan
Want to read more? Check out these blog posts:
Inside the Sketchbook: Magali Franov
How to Develop a Drawing Habit
5 More Ways To Fill a Sketchbook
Photography by Dimitri Franov.
Comments (1)